The autumn-winter collection of the american brand, leader of textile innovation, once again offers us exceptional equipment to face the most difficult winter conditions. We tested it for you.
The days get shorter, the cold sets in this month of October. We look out the window, take a look at the weather app, and a great deal of hesitation invades us …. The first minutes of the race are difficult. Finally, we get used to the cold, the wind, the rain and the pleasure grew as the legs swallow the miles. All runners know his racing sensations in winter.
Getting hydrated, and lengthening your warm up are as essential as choosing your outfit. Because we can face all climatic conditions if we have a suitable running equipment. First of all it is advisable not to cover too much, not to be too hot after a few minutes of effort. Most runners use the 3 layers technique: first layer keep the heat, second layer of insulation if the cold is important and finally a protective jacket. Then, it is essential to protect the extremities such as feet, hands and especially the head, which concentrates 30% to 40% of heat loss.
For the winter range test from Gore Wear, I limited my choice to the R7 long sleeve jersey, the R3 Mid tights and the Gore-Tex Infinimium Stretch gloves. The few rainy days of late September and early October allowed me to test their effectivenes
Proper equipment conditions the comfort and progress of the runner. Taking these requirements into account, we tested Gore Wear's new autumn-winter collection. If you follow our blog, you should know that I'm a fan of the brand's products, always on the cutting edge of innovation, light, comfortable, soft and breathable. I have discovered this during testing of the R7 Gore-Tex Infinimium Jacket and this year's Spring-Summer lineup. Winter running textiles need more attention on insulation and thermoregulation.
Mid tights R3 : comfort and efficiency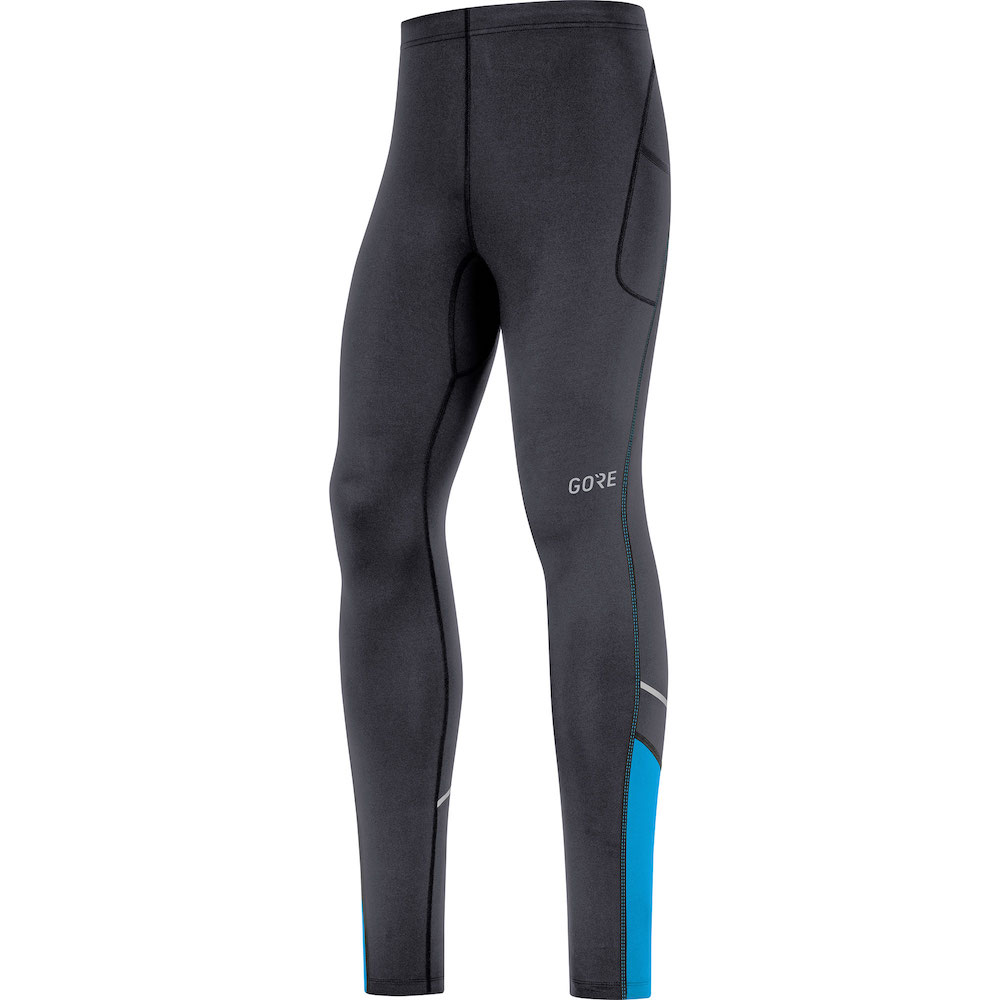 Running tights are not the sexiest thing. But in winter, they are essential as soon as the temperature drops below 10 degrees … and it's still super comfortable …
Visually, the R3 Mid tights are very classic, black with a blue band on the outside of the calves. The seams are in flatlock, as in most sportswear and thermoregulation. Reflective elements, essential in winter, are arranged on all sides. The R3 Mid tights have zips at the bottom of the legs for easiest wearing. The belt is elastic with a drawstring. Its brushed interior is very comfortable, soft on the skin and lightweight. There is a small elastic side pocket, in which you can slide a smartphone, and a small zipped back pocket, enough to accommodate keys and small objects … in short, nothing is missing.
On trial, the R3 Mid tights are very soft and comfortable. It allows perfect thermoregulation of the legs, even in cool temperatures. At the same time very light and very breathable, it does not interfere with the movements of the legs. It will perfectly accompany my training and races this winter.
Long sleeve R7 jersey: lightness and ventilation
GORE® R7 Long Sleeve Shirt

GORE® R7 Long Sleeve Shirt
I had already experienced the quality of the short-sleeved R7 t-shirt in the spring-summer collection. The long-sleeved R7 jersey comes in a very original deep blue and lemon-yellow color, which changes from the eternal black that all runners wear. The T-shirt is ultra-light, breathable, soft and is very close to the body. It is made only with few seams to limit unpleasant and irritating friction. Visibility elements are sewn on the sides. "Pass-inches" ensure a perfect fit of the sleeves.
The long-sleeved jersey is very light, you hardly feel it. Very tight, without being a first layer garment, it guarantees perfect ventilation, without sticking to the skin, even during very long outings. Its very good thermoregulation makes it an accessory that can be worn both in winter and in summer.
M Gore-Tex Infinimium Stretch gloves: maneuverability and comfort
GORE® M GORE-TEX INFINIUM

GORE® M GORE-TEX INFINIUM
Gloves are essential accessories for winter. Riders usually catch cold from fingertips. This necessarily affects comfort and performance. Also, choosing good gloves is a point on which you should never compromise.
M gloves feature patented Gore-Tex Infinimium technology for a lightweight, water-resistant fabric. They are composed of a stretch material that conforms to the shapes of the fingers and the hand. As it should be, reflective elements were arranged on each side. Each finger incorporates gripping elements allowing the handling of small objects and smartphones. They are real featherweight!
I was able to test them during rainy outings this month of October, while for a few days the temperatures have fallen happily below 10 degrees. M Gore-Tex Infinimium gloves are probably the best gloves I've ever worn. They are light, breathable, and waterproof. They allowed my hands to stay dry and warm while the temperature did not exceed 5 degrees. They are also very handy for handling his smartphone and apps for runners.
To conclude, Gore Wear is really the safe bet of textile running. It provides the technicality of its textile innovations in favor of comfort and performance, for our greatest happiness. No worries about their sustainability; Once purchased, Gore Wear products will accompany you for several seasons, I can testify!