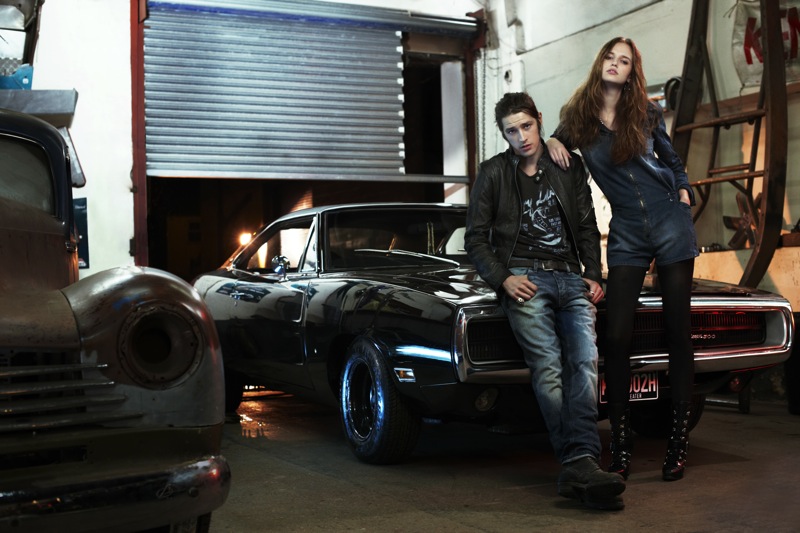 Inspirée du style rockabilly,!"Kustom Kulture" est une collection faite de contrastes et de couleurs, mélangeant lescodes du vestiaire Américain, mais de manière customisée, personnalisée et amplifiée.
La collection hiver 2010 s'articule autour de deux thèmes : Thrill of Speed et Engraved Life.
THRILL OF SPEED
Ce thème puise son inspiration des courses automobiles des années 50, et propose un look à la fois moderne, authentique et personnalisé.Les jeans se portent avec des chemises à carreaux, des vestes en cuir ou un teddy. Wrangler joue avec les contrastes de couleurs : rouge vs blanc, noir vs vert, bleu vs blanc, noir vs rouge. Les denims se font sombres et profonds.
ENGRAVED LIFE
Le second thème de la collection puise son inspiration dans l'univers de la customisation, en faisant référence aux selles en cuir gravé que les cow-boyspersonnalisaient. Des motifs repris en détail sur les tops et les poches arrière des jeans.
Les jeans sont travaillés avec des effets 3D pour un look vintage naturel. Les délavages se colorent, dans des tonalités de beige et vert.
Le skinny Molly se décline en velours beige, porté avec une veste en denim. Le boy-friend Jax, décliné dans un délavage marron, s'harmonise à merveilleavec un petit blouson en cuir beige. Quant aux silhouettes hommes, elles jouent les contrastes : chino beige et chemise en denim brut, blouson en cuir camel avec une chemise en chambray claire et un jean noir…