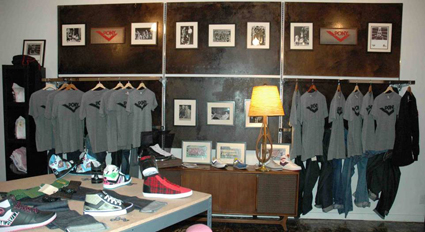 PONY, la mythique marque de sneakers US a ouvert le 10 Juillet dernier son 1er flagship à HOLLYWOOD, appelé FARMHAUS, situé au 4626 Hollywood Boulevard.
Cette ouverture a fait l'objet d'une soirée d'inauguration avec la présence de nombreux artistes US (musiciens, Dj's, rappeurs, graffeurs…) comme Rug Burn, Ghettoblaster, Carson Cornett…
The FARMHAUS célèbre l'authenticité de la marque PONY à la fois fortement encrée dans son héritage sportif et résolument contemporaine. Dans une ambiance de loft à la fois moderne & vintage, the FARMHAUS offre une sélection de produits sur mesure : les collections Footwear Pony bien sur mais aussi un choix de lignes textile sélect (t-shirts Pony vintage, chemises,  denim…).